Halloween is just around the corner, and with it comes the question, "What am I going to be this year?" A great costume doesn't have to cost a fortune.
This year shop your closet! Use what you already have to create a fun costume that's comfortable to wear all night long. Here are a few ideas for easy costumes that use items you already have in your closet.
When you've created your unique look, be sure to enter our photo contest to win Zyia cash.
Olivia Newton-John from "Physical" video
Go retro with this idea inspired by Olivia Newton-John's fitness-themed music video, "Physical." Pair pink leggings with a white leotard or white tank and top it with a blue t-shirt tied in front. Finish the costume with blue socks, a white headband, and white tennis shoes for the quintessential 80s look.
Calamine Lotion/Pepto Bismol
Let your medicine cabinet inspire you! A bottle of calamine lotion or Pepto Bismol is easy to recreate using pink leggings paired with a pink shirt or pink tank. Complete the look with a washable fabric marker to create your "label."
Peppa Pig, Porkey Pig, Wilbur
Don't want to be calamine lotion? No Problem! Use the same pink leggings paired with a pink shirt or pink tank and a pig snout mask to transform into Peppa Pig, Porky Pig, or Wilbur from Charlotte's Web to maximize your closet's costume potential.
Pink Panther
Pigs aren't your style? Don't worry! Your closet has you covered. Pair your pink leggings with a pink copper charged tank and cat ears for a Pink Panther look that's comfortable all night long.
Josie and the Pussycats
Step out of an Archie comic book with this Josie and the Pussycats costume. Pair leopard print leggings or leopard double scrunchy shorts with a leopard crop hoodie and cat ears. Let your friends in on the fun and make it a group costume. Switch out the hoodie with a leopard print mesh bra and/or leopard grid bra for three great looks for the whole band.
Carole Baskin
Tiger King made Carole Baskin a household name. Recreate her look with a leopard sweatshirt and black leggings.
Butterfly
Turn into one of nature's most beautiful insects by pairing black leggings with a black leotard, black shirt, or black tank and butterfly wings to make a stunning entry. Switch out the wings to make different butterfly looks.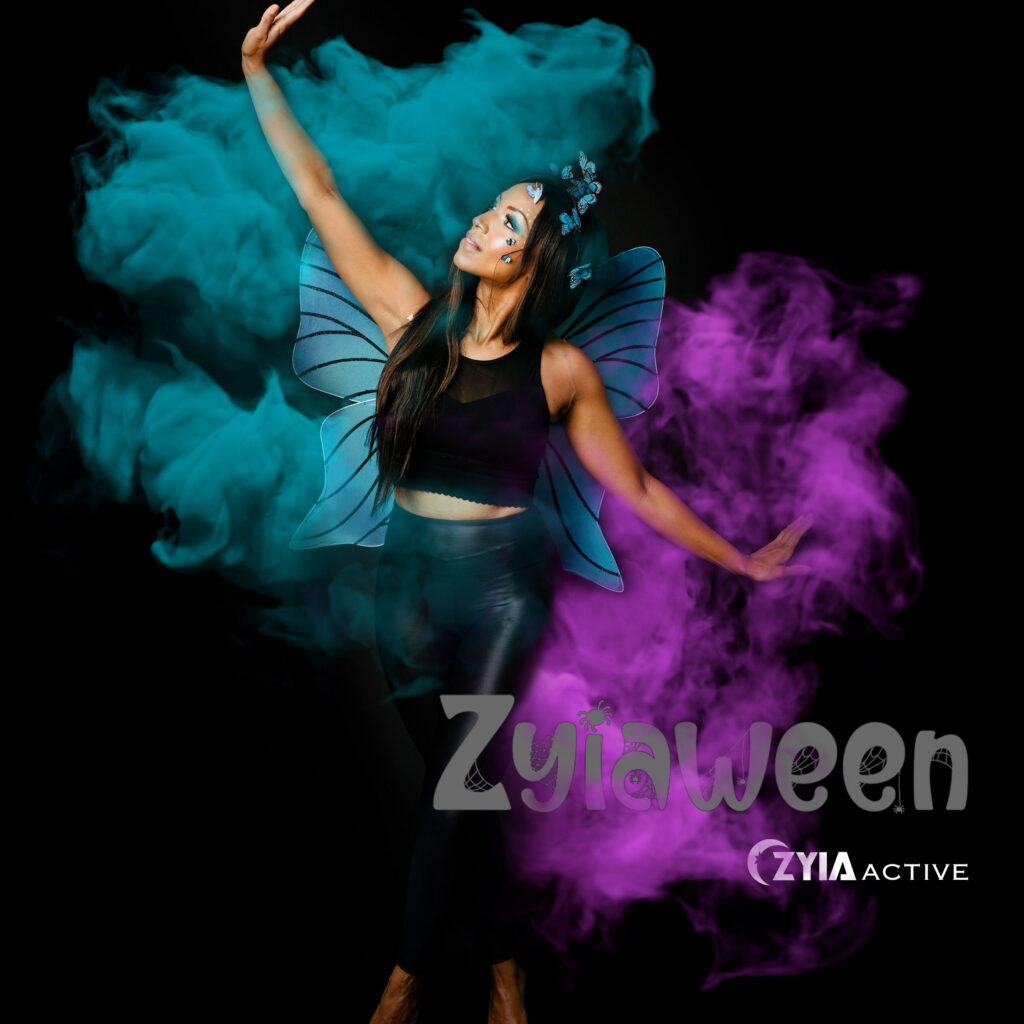 Chalkboard
They may have taken the chalkboard out of the classroom, but they can't take it out of your closet. Pair black leggings with a black sweatshirt for the board itself. Use washable fabric marker to write your favorite quote or solve a math problem. Be inspired by Bart Simpson by writing "I will not…" down the front for a fun twist.
Serena Williams
Serena Williams is the GOAT (Greatest of All Time) of professional women's tennis. Channel her courtside look with a chill clubhouse skirt and perfection tee. Finish it off with a tennis racket to ace the look.
Cheshire Cat
What is more iconic than the Cheshire Cat from Alice's Adventures in Wonderland? Recreate him with purple ombre stripe leggings and purple chill long tee. Add cat ears and a huge grin for the purr-fect costume.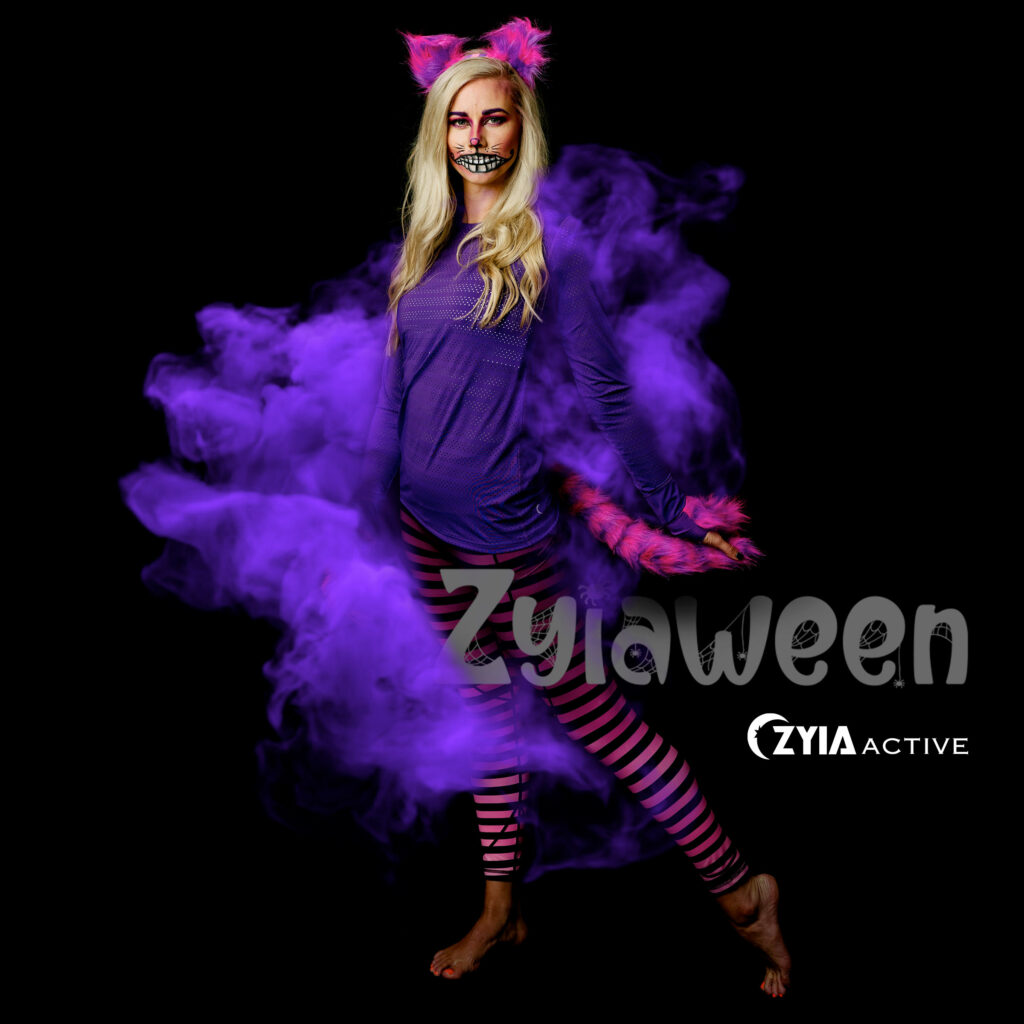 Domino
Dominos aren't just good for knocking down. They make great costumes. Pair black leggings with a black shirt for the domino piece and use a washable fabric marker for the dots. Get friends and family in on the fun by using different dots to make a set.
The Incredibles
Dust off your black eye mask with a look inspired by the Incredibles. Pair red venom leggings, red chill long tee, and black swimsuit bottom for this super look. A black eye mask and black boots finish off the outfit. This is a great idea for family costumes.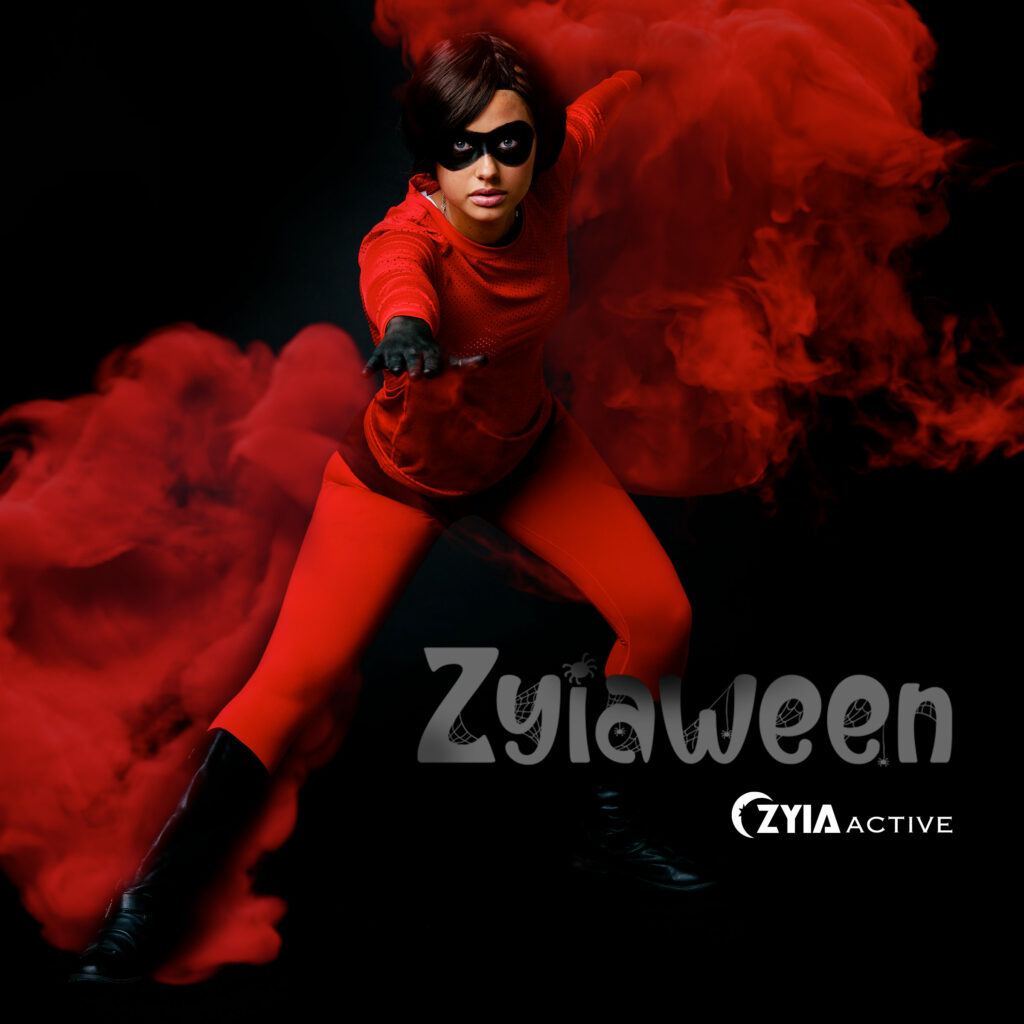 These are just a few of the costume ideas you can create out of items you already own. The possibilities are only limited by your imagination.
Your Costume Could Win $100 in Zyia Cash!
Today through October 21, you can enter to win our Zyiaween Costume Contest.
To enter:
Post a photo of you (or your kids or partner) wearing a Zyia-inspired Halloween Costume.
Tag @ZyiaActive and use the hashtag #Zyiaween.
Make sure your account is public so we can see the post and enter your into our contest.
Contest closes at the end of the day, October 21.
Winners will:
be chosen at random.
receive $100 Zyia Cash.
be notified via Instagram.
Rules & Notices:
We reserve our right to disqualify entrants that feature objectionable content. Please do not share costume photos that are gory, overly sexual, or express intolerance and hate.
There is no cash equivalent for prizes. Winners will receive a $100 Zyia product credit to be used on ZyiaActive.com.
By entering our contest, you agree to let us use your submitted image in current and future promotions without compensation.