9 Ways to Blend Activity with Making the World a Better Place
In every great sports movie, there's a transformation montage. You know the one. The hero—through a series of clips and to the accompaniment of a rousing soundtrack—rapidly morphs from a sweatpants-wearing novice to a Spandex-wearing pro. Before, sweat spread across his baggy cotton shirt. Now his biceps glisten with a righteous sheen. He wins the race, gets the girl, and lives happily ever after.
We love sports movies for their philosophical promise. They tell us that mastering one's physical self can be transformative of the whole self. And indeed, research agrees that increased activity makes us feel, look, and behave better toward others.
Here's where it gets really exciting. That better behavior, especially helping others, has been proven in multiple studies to help us live longer, healthier lives. Talk about efficiency!
No matter your activity level, here are nine ways to blend personal improvement, activity, and a volunteer spirit to make the world a better place.
Make Your Neighborhood Safer
Groups like Neighborhood Watch and Take Back the Night are built on the knowledge that the presence of non-criminals on a neighborhood's streets helps reduce crime. If you'd like to keep your playgrounds and skate parks a safer place to play into the dusk hours, consider forming an evening neighborhood walking group. Many of your neighbors may be "too busy" walk for their health but will find the time to walk in service to others.
Build a Community Fitness Group
Not everyone feels comfortable or motivated by the gym environment. Since research shows that social connections are a huge plus in meeting fitness goals, consider helping your friends and neighbors by leading the charge. Many communities have free spaces (clubhouses, community rooms, libraries, churches, schools, etc.) that are willing to host group fitness classes. Enlist friends with different skills to lead HIIT, strength training, or yoga classes on a rotating basis. Leverage online community-building tools to keep the schedule and spread the word.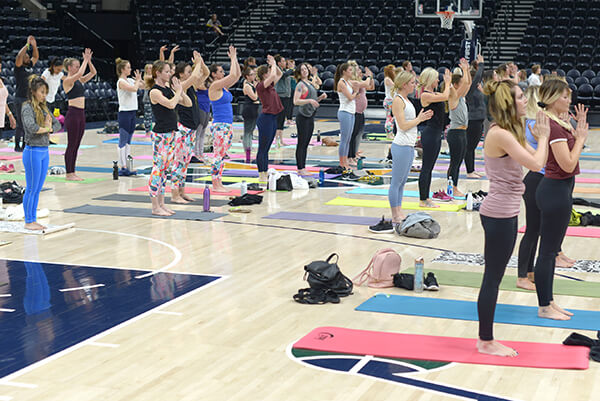 "In my old neighborhood, the moms had a Monday morning fitness class held at the neighborhood church. We lived there for years, and this was always the best way to meet new friends and start the week off right. Plus, it was always a bit exciting trying to guess what the workout would be that week." — Sarah B.
Start a Plogging Group:
Never heard of plogging? That's ok; it's easy to learn. Start jogging through your neighborhood or a nearby park. When you see a piece of litter, squat and pick it up (we suggest you wear gloves), then put it in the trash bag you're carrying. Repeat.
Start a neighborhood plogging group, and get the kids to join you. It's an easy sport to make into a friendly competition and one that teaches valuable lessons about how we treat the spaces we all share.
Help Coach a Kids' Team
You don't need a lot of skill or knowledge of the game to help coach a children's sports team. What you do need is endless patience and the desire to help kids to grow into new skills. Your own kids' teams are a logical place to begin contributing, but not your only option. Most leagues are desperate for help and require only that you have a clean criminal background.
Not sure how to find a league? Check out Facebook and your local grocery store's bulletin boards for notices about team signups.
"My son's football team always had about seven dads as assistant coaches. The favorites (and the most motivating) were the ones who were willing to run laps with the boys." — Toby R.
Swing a Hammer—for a Good Cause
Building groups like Habitat for Humanity are a great way to get involved in long or short-term projects. You can volunteer on your own, or organize a group to volunteer together. It's a great team-building activity, and carpentry skills aren't required. As any construction worker can attest, there's plenty of need for strong backs and legs to haul materials!
Plant Something
If you have a green thumb—or maybe just strong quads—community gardens and reforestation projects could use your help. Groups like TreeUtah and OneTreePlanted are two examples, but the country has many more local groups in each state.
To find a local community garden, go to CommunityGarden.org. If you can't find one there, ask at either your local nursery or your local food bank.
Bonus points: If you do end up at the food bank, talk to them about packing boxes. It's a great way to tone those arms while helping to feed your neighbors.
Get Involved with Charity Race
In any climate, spring through fall are full of opportunities to volunteer at races put on for a cause. Everything from Juvenile Diabetes to Breast Cancer has a charity walk, run, or bike ride and all of them need armies of volunteers to put on a safe event.
If you prefer more action, races like the Bike MS give you the opportunity to race and raise money for a good cause. Put together your team, then raise money while training and racing together.
Walk the Dog
If you're an animal lover, you may already be familiar with your community's local shelter. Adoption centers are always looking for volunteers to walk dogs. The break from being kenneled is great for the dogs' mental and physical health, and it helps them build leash manners. It's a great way to get in your steps while helping an animal have a brighter future.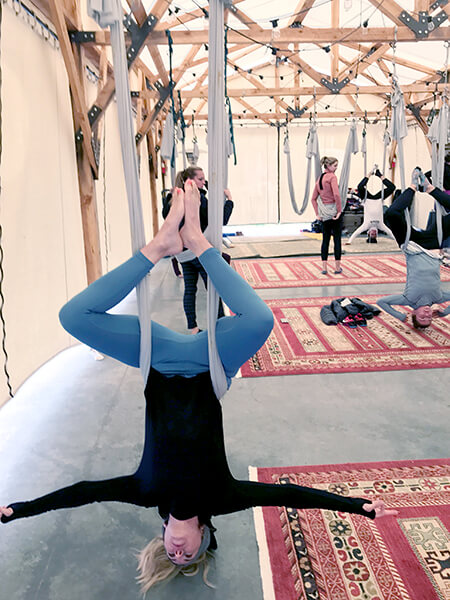 Bonus: Many shelters also have volunteer programs for children. What a great way to spend some time together over summer break.
Help Make Happy Trails
Hikers and mountain bikers rely on well-maintained trails to enjoy their sports. But who maintains the trails? City and county workers maintain some trails and bike parks. But in many cases, it's the enthusiasts themselves that go out with rakes and shovels to flatten ruts and fill in holes. To find a volunteer opportunity, look for Facebook groups for enthusiasts in your area. You can also ask about trail maintenance groups and events at your local bike shop.
Being active and giving back are important parts of enriching your personal life and your community. But to have a lasting impact, you'll need support. Spread the word and invite others to participate by sharing your experiences. This month, use the hashtag #activityzyia to connect with others on the same path. Inspire each other, lift each other up, and maybe even engage in a little friendly plogging competition for most pounds of garbage collected.